Paula Poundstone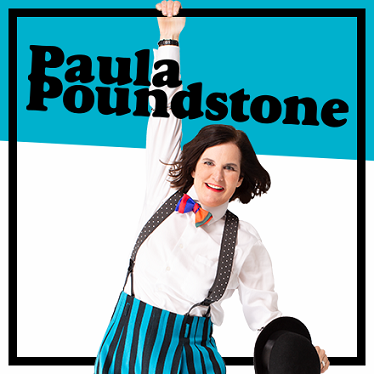 Artist's Website
: Paula Poundstone
Paula Poundstone is known for her smart, observational humor and spontaneous wit that has become the stuff of legend. Time magazine listed Paula's HBO special, Cats, Cops and Stuff as one of The 5 Funniest Stand-Up Specials Ever. She was the first woman, in its then 73rd year, to share the dais with the President and perform standup at the White House Correspondents' Dinner. She was the first woman, in its then 5th year, to win the Best Stand-up Comedy Special ACE award for Cable television programming. Her second book, The Totally Unscientific Study Of The Search For Human Happiness was one of eight semi-finalists for the Thurber Prize for American Humor, the highest recognition of the art of humor writing in the United States; The audio book was one of five finalists for the Audio Book of the Year AUDIE award.
Paula can be heard weekly on Nobody Listens to Paula Poundstone, the comedy podcast and as 'French Trump' on the satirical minicast, The French Trump Weekly Press Conference. When the Covid-19 crisis hit she started making self-described "goofy little comedy videos" to help people get through. They are available as RX Laughter Videos on her website. Her "Your New Best Workout Buddy" comedy workout videos have just been added to the mix.
Paula continues as a panelist on NPR's Wait Wait…Don't Tell Me! She is recognized in innumerable lists, documentaries and literary compendiums noting influential standup comedians of our time.
This event held inside in our Upstairs Listening Room.

In light of the current public health situation, Paula asks that all of her shows adhere to the following:

· Patrons must show vaccination card in order to gain entry to the show, OR

· Patrons must show proof of a negative COVID-19 test administered within 72 hours of the performance.